Japan The marine and fishery processing and sales company, SINSEI Fish Inc, uses Kiwi Technology and IIJ's LoRaWAN IoT solution to manage the temperature of freezers and warehouses.
In the past, SINESEI Fish Inc,. used manpower to regularly inspect the temperature control of the processing plant of freezers/refrigerators that store aquatic products, but with the introduction of Kiwi Technology's LPWAN IoT solution, operations efficiency improvement can be realized, automated, labor-saving and 24/7 temperature control and monitoring.
In the past, people inspected the storage temperature and control of the freezer/refrigerator in the processing plant of aquatic products. It takes about 30 minutes to inspect all the check points, and the temperature can only be recorded twice a day due to manpower limited. In addition, the measurement data is recorded using paper, which is not easy to save and manage.
Kiwi's temperature control solution "Kiwi temperature Box" brings a new digital transformation tool to SINSEI Fish Inc,. This is a system that can connect multiple wireless temperature sensors and gateways at the same time and send temperature data to the cloud. Cloud applications for data storage, cleaning, classification and visualization. The temperature sensor and gateway communicate through LoRaWAN, and the gateway and cloud communicate through 4G LTE. Since the temperature sensor is battery powered and requires no additional power supply, it only took about a month from installation to operation. (Start operation in November 2021).
The amazing effect brought to the customer after phase in it, the temperature data of each measurement point can be automatically collected wirelessly. Workload is reduced by eliminating the need for patrol work to check temperatures. In addition, the ability to deal with the risk of quality deterioration due to abnormal temperatures is improved as data is automatically measured, recorded and visualized every hour. In the future, it plans to improve operational efficiency beyond temperature control. This is the first step in the digital transformation of the traditional industry of SINSEI Fish Inc,. which will evolve and upgrade the work related to manual temperature monitoring and control to digitalization and intelligence.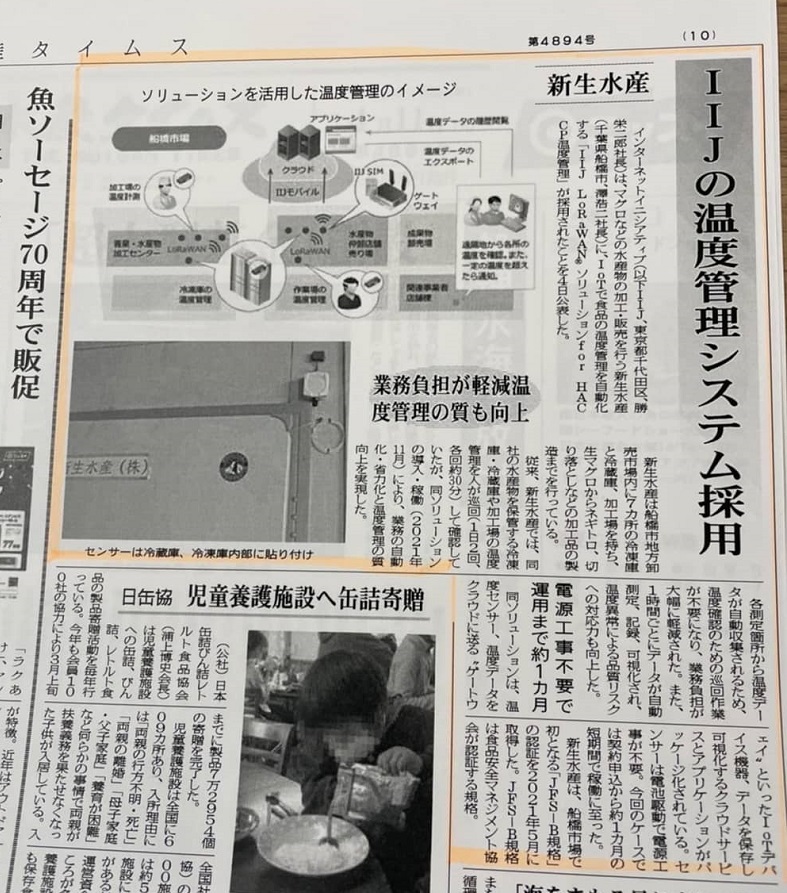 Temperature management solution  – Kiwi temperature box
https://www.kiwi-tec.com/products-and-services/kiwi-temperature-box/
Source reference of PR news
https://www.iij.ad.jp/news/pressrelease/2022/0404-2.html
https://it.impress.co.jp/articles/-/22951
https://b2b-ch.infomart.co.jp/news/detail.page?IMNEWS1=3193681