Kiwi technology is delighted to announce its participation at the reputed AWS Next Gen Infra Web Day on 9/14

According to the nroad marketing forecast, 80% of the data will be Unstructured Data by 2025. With the development of the AI Internet of Things (AIoT), the amount of unstructured data that enterprises need to process is also increasing. Successful businesses run on data, and what sets industry leaders apart is the ability to manage and analyze that data to gain insights into cost reductions, operations, customer needs, and changing trends, AI or BI.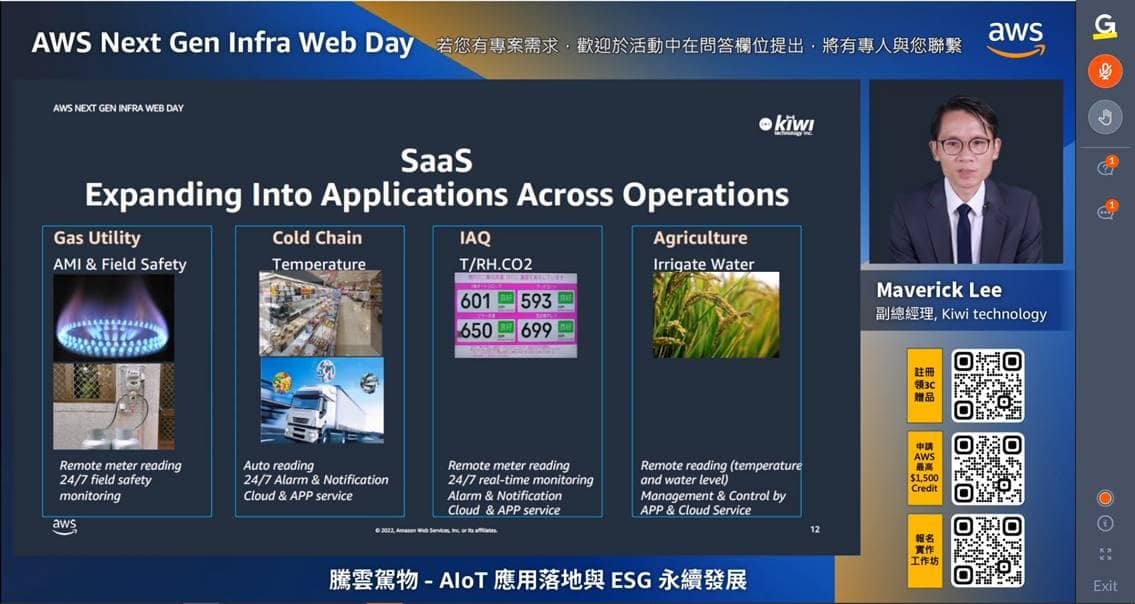 The future AIoT market is not only about business opportunities of connected devices for various to B or to C and using the cloud services, but also a large amount of data collected by a large number of IoT devices, how to analyze and extract the gold mines in the data in the backend for important AIoT applications, software will be an important key to practice IoT applications.
Marketing report leader, Gartner estimates that by 2025, 85% of organizations will adopt the cloud-first principle. In view of this, Kiwi technology shared in this seminar to provide enterprises with more comprehensive, stable and scalable IoT software cloud solutions The Kiwi AIoT solutions will take you to experience cloud applications such as data collection, device management, connection management, data and network security, and information security!
Please see the related news reports and website link bellowing
Click to view the related documents in the published text.
https://pages.awscloud.com/20220914-tw-next-gen-infra-webday-Reg.html?sc_channel=el&sc_campaign=twnextgeninfrawebday2022&sc_geo=chna&sc_country=tw&sc_outcome=reg&sc_medium=inside&trkCampaign=twnextgeninfrawebday2022&trk=20220914-nextgeninfrawebday-inside